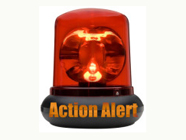 Take action now. This is not about right or left; it is about right or wrong.
The terrorism of radical settlers and their supporters is clearly escalating.
Recent months have seen repeated attacks by these Jewish terrorists against peace activists, Palestinians, the IDF and police, and against a mosque and a Muslim and a Christian cemetery inside Israel.
Recently, a terrorist called in a bomb threat to Peace Now's Jerusalem office and left "price tag" graffiti at the site. A few days later, terrorists sprayed death threats at the Jerusalem home of Peace Now's Hagit Ofran, writing: "Hagit Ofran, Rabin awaits you" and "Hagit Ofran, z'l" (z'l translates roughly as "of blessed memory and is used to indicate that someone is dead).
Take action now. This is not about right or left; it is about right or wrong.
As Israel commemorates the 16th anniversary of the murder of Prime Minister Yitzhak Rabin at the hands of a Jewish right-wing terrorist, we cannot ignore this escalation or what it portends. We also cannot ignore the fact that this escalation is happening in parallel to attacks on Peace Now and other Israeli civil society organizations from within the Israeli establishment, through anti-democratic legislation in the Knesset, much of it supported by the current government of Israel.
Hagit said today that the settlers' threats won't deter her. As people who support a democratic, pluralistic Israel, consistent with our core values as Jews and Americans, we, too, must not be deterred. We must refuse to be silent in the face of these attacks.
We suggest several possible actions:
Our response to attacks on the Israeli peace camp must be to redouble our support for the efforts of Hagit and her colleagues, and make sure they know that American Jews stand with them in the fight for a secure, democratic Israel. We must stand against the poisonous political environment that brought about past political assassinations. "Rabin Awaits You" ought to ring in the ears of us all, who sixteen years ago vowed: Never again.