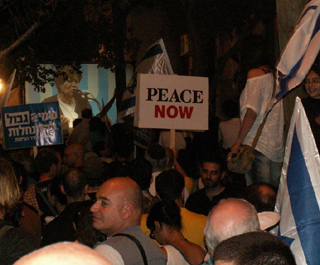 Thousands of activists came out Saturday night to a Peace Now demonstration in Jerusalem.
Their message: Supporting peace is more pro-Israel than continued settlement activity.
In the words of former Knesset Member Tzvia Greenfield: "Zionism cannot be subordination and land theft. Zionsim cannot be control over the weak. Judaism is not theft and conquering the weak. That is not Zionism. That is not Jewish."
This demonstration is an important milestone in our effort for peace. Israelis are increasingly vocal in their desire to see their government pursue policies that will end the occupation and bring about a two-state solution.
Click here to see pictures from the demonstration on Facebook.
Saturday's demonstration was a strong response to the radical forces in Israel who are trying to paint Israel's peace and democracy activists as anti-Israel. Peace Now is taking back the flag and explicitly saying that it is the settlers who are undermining Israel's future.
Click here to read "Settlers are Not Zionists," the speech delivered at the demonstration by Peace Now's Etai Mizrav.
The Israeli Peace Now movement is building a broad coalition of organizations that are committed to peace. Saturday's demonstration was organized in cooperation with Geneva Initiative, Meretz, Ofek, Labor Party activists, and the National Left.