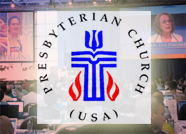 In the past few days, I've had the opportunity to reflect upon APN's statement calling on the American Presbyterian Church (PC-USA) to vote against divestment and in favor of boycotting products made in Israeli West Bank settlements, a position the Church ultimately adopted.
Let me say, unequivocally, that PC-USA was sincere and serious in approaching this issue at a time when we are all frustrated and pained by the ongoing impasse in Israeli-Palestinian peace efforts.
Shortly before PC-USA took its vote on divestment, Americans for Peace Now weighed in, urging the plenary members to vote against divestment and to support a settlement boycott. Our call was a principled one, based on our policy positions regarding the path to ensure Israel's future as a secure Jewish and democratic state, free of the occupation.
I stand by that call and appreciate PC-USA's decision to vote against divestment, and to endorse the boycott of products made in Israeli West Bank settlements. We love Israel and we believe that, for its own vital interests, Israel must stop settlement construction and end the occupation. The settlement boycott targets Israeli settlements on land that should become the future Palestinian state.
What we failed to acknowledge in our statement were PC-USA's efforts to craft a narrowly focused, carefully targeted approach to divestment. The organization was searching - as are we all - for a way to promote a peaceful settlement of the Israeli-Palestinian conflict. We appreciate their intent and their informed discussion.
APN will continue to approach and examine this issue in the principled way that we approach all policy issues - and with additional care when it comes to our tone in addressing our friends.