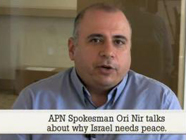 Recently, a gunman killed two young people at a Tel Aviv gay and lesbian center; a settler attacked Peace Now activists; Militants tried to assassinate Peace Now supporter Professor Zeev Sternhell.
Unfortunately, the list could go on.
APN'
s Ori Nir relates the increasing brutalization of Israeli society to incidents he witnessed while covering the West Bank as a reporter twenty years ago.
Click HERE to read a letter on the subject by Ori.