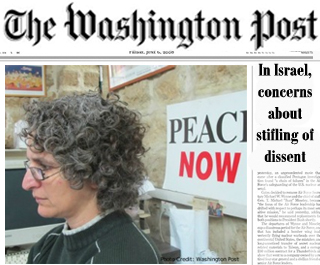 The Washington Post's Sunday edition featured Hagit Ofran, the director of Peace Now's Settlements Watch project, in a story about the attacks on Israel's democracy and civil society.
In the face of repeated death threats, she is not intimidated and determined to continue her work, educating the Israeli public about the threat that West Bank settlements pose to Israel's future, Hagit told the Post.
Shortly after the article was published, Hagit and six of her colleagues at Peace Now again received death threats yesterday, this time by email.