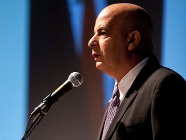 The next time people tell you that Palestinian President Mahmoud Abbas is the only one responsible for the of Israeli-Palestinian diplomatic stalemate, send them to Shimon Peres and Yuval Diskin.
Everyone knows President Peres, who has been in Israeli politics longer than any living soul, and who knows Israeli politicians better than anyone. Peres urged the international community, after Binyamin Netanyahu became prime minister three years ago to trust Netanyahu's commitment to peace with the Palestinians.
Last week, Peres made clear that Netanyahu disappointed him. In an
interview with Haaretz
, he said: "I've had no small number of conversations with Abu Mazen," referring to Mahmoud Abbas by his less formal name. "All of them were with the prime minister's knowledge. He knows all the details. Based on these conversations, I am convinced we could have achieved peace with Abu Mazen. He's a worthy partner and can deliver the goods." The interviewer asked Peres why then peace negotiations were not pursued. Peres' reply: "Because the prime minister thinks there's a different way." He continued, "Netanyahu removed hundreds of roadblocks in the West Bank, which contributed a lot to strengthening the Palestinian economy and to building a state-in-the-making. But there were no negotiations." In other words, Netanyahu preferred to pursue his "economic peace" idea, improving the West Bank Palestinians' living conditions but providing them - and Israelis - with no political horizon.
Yuval Diskin is less of a household name in the United States. Israelis know and respect his security credentials. Diskin was the head of Israel's Shin Bet, the security service that mainly deals with Palestinian affairs and often advises the government on Palestinian politics. On Friday, Diskin spoke informally at a gathering of retired Israeli security chiefs, politicians and businessmen.
Here is what Diskin said about Netanyahu's failure to advance negotiations with the Palestinians: "The fact that we're not talking with the Palestinians--and guys, forget about all the stories they're selling you in the media about how we want to talk but Abu Mazen doesn't and so forth. I'm telling you, we're not talking with the Palestinians because this government has no interest in talking with the Palestinians. I was there up until a year ago. I know from up close what is going on in that area. This government has no interest in talking with the Palestinians. Period. It most certainly has no interest in resolving anything with the Palestinians. Period. I can tell you that with full certainty. Furthermore, the prime minister knows that if he takes even the smallest step forward on this issue then the well-established rule of the prime minister in the State of Israel and the strong coalition he has will fall apart. It's that simple. That is why no one here has any interest in resolving anything with the Palestinians, and that is the source of the Palestinians' frustration--and incidentally, I'm not defending the Palestinians in the least. They have made their mistakes. I am looking at [the question of whether] we have an interest [in negotiating with the Palestinians] - we as a people have an interest in this [but] this government does not have a real interest in changing anything in this area." This is a
translation from the Hebrew original
.