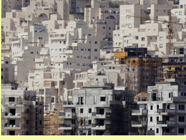 (p. B4) by Ofer Petersburg
translation provided by Israel News Today. Article not available online.
It is doubtful if this was the solution envisioned by the leaders of the social protest when they went out to demonstrate over the cost of housing in Israel. But the impossible real estate prices and the unfreezing of land over the Green Line have created a new and surprising trend in the past year:
Hundreds of secular families have moved to Judea and Samaria in exchange for tax breaks and the low price for a house with a garden. All this five minutes from Kfar Saba, Shoham or Rosh Haayin.
Many of the families who took this course of action did not move to Judea and Samaria for political reasons, and are not identified in any way with the right wing and the struggle for the greater Land of Israel. On the contrary: Many of them are as far removed from the hilltop youth as Shenkin Street is from Efrat, and even vote for left wing and center parties. Hundreds of such families have already moved or purchased apartments in Judea and Samaria settlements, mainly those close to the Green Line. They define themselves as "non-religious"--people who have become tired of paying excessive rent in greater Tel Aviv and want to move into a new four-room apartment of their own.
Meet, for example, the Barkans--49-year old Eyal, 42-year old Liat and their three children--who moved two years ago from Ramat Hasharon to the community/settlement Beit Aryeh. "We left Ramat Hasharon for better quality of life," says Eyal, a wood contractor. "The house we have today is much larger than the previous one. The children are very happy with the nature and the pool, and each one has his own friends. The community also helps us in all matters."
Q: Doesn't it bother you that you've become settlers?

"We call the settlement 'territories lite' [i.e. a diluted version], and for us it is a little paradise. I grew up in Ramat Efal, and I never had any connection with the settlements. I live today in the hills, I have a breeze, I can see the sea, and it's not disgusting like in the center of the country. Before we came to Ramat Hasharon we were in the United States, and I said to my wife that I have to live outside the city. We searched for a long time throughout Israel. I wanted to live in the north because of the hills, but when we came to Beit Aryeh it reminded me a lot of the Galilee landscape.
"We enjoy all the benefits of living close to the center. The settlement is located half an hour from Tel Aviv and five minutes from Shoham and Modiin. I have no traffic jams, and I have lots of options for reaching every central location in Israel. There's no fear of living in the territories, and even the residents of the nearby village are my household guests. We're all friends. I built a house and haven't locked it from the first day I built it."
Tired of moldy apartments
"Ariel is not related to ideology, it has become a real estate capital for residents of central Israel who can't afford an apartment," says Ariel Mayor Ron Nahman. The recognition of the city's academic institution as a university, Nahman says, will cause rents to increase in the city. Rent there has already risen, approaching the prices of the periphery of the greater Tel Aviv area.
The settlements in Judea and Samaria most sought after by the new settlers are Shaarei Tikva, Oranit, Ariel, Alfei Menashe and Beit Aryeh in central Israel, and Maale Adumim in the Jerusalem area. The government recently unfroze hundreds of housing units for construction in the territories--and this has increased the migration even more. The benefits given by the government to residents of Judea and Samaria also play an important part in the turnabout. In general, the settlements in Judea and Samaria received positive reinforcement about a month ago from the government committee headed by retired judge Edmond Levy, which determined, among other things, that building settlements was not illegal. Data provided by the Central Bureau of Statistics also indicate a drastic change in investments in settlement in Judea and Samaria. From 2003 to the end of 2011, Israel's governments invested over NIS 10 billion in settlements over the Green Line and over NIS 1 billion in the past year alone.
The Kosoy family--Adita and Vladimir, 32, and their two small children--came to Ariel a few years ago in order to study at the college, and recently registered to purchase an apartment in the city. Adita works at the Ariel University Center and her husband works in Tel Aviv. The two say that it is important for them to live in a new, aesthetic and nice-looking home, but also one that they can afford to pay for. "We have no political direction," says Adita. "We haven't decided amongst ourselves whether we're left wing or right wing. Our family conducts a healthy lifestyle, and it's important for us to live in a green project and not drive a lot."
The social protest has also led many families beyond the lines. Revital Ackerman, 38, and her partner Amir Tiny, 43, and their three children (four-year old twins and a two-year old), who define themselves as left wing, moved about a year ago, in the midst of the social protest, from Givatayim to Alfei Menashe. "The economic situation broke us," Revital admits. "We lived in an old three-room apartment, and I felt it wasn't enough for the children. Today we rent a five-room garden apartment with a yard and a porch. It's very difficult to find a normal apartment of over three rooms in a decent area in central Israel with low rent."
Q: Don't your political opinions play a part in your decision?
"No. We're left wing in our opinions, but when we think about the children it's neither Left nor Right, but the future of the children. They get a community and social life here that are better developed than in the center." [...]
"We're unwilling settlers," admits G, who moved into a small settlement in Judea and Samaria. "People here know that I'm not right wing, but I'm very pleased with the quality of life and the possibilities for raising children here. Clearly it's a compromise, but the prices in the center of the country won't drop, so this is the cheapest alternative that is closest to greater Tel Aviv."
Not afraid of eviction
As inexpensive and tempting as such a move may be, it is also accompanied by serious worries--mainly the fear of an eviction from Judea and Samaria. But many of the people who move to the settlements admit that they have taken the chance into account and rely on the fact that they will receive compensation from the state. Attorney Neta Cohen-Salman, who deals, among other things, with real estate deals in Judea and Samaria, says that the amount of compensation for a family that will be evicted from Judea and Samaria is expected to reach about NIS 4 million, including all the components and services that a family needs during and after the eviction. Cohen-Salman notes that the evacuees of Gaza and northern Samaria received about NIS 1.5 million to NIS 2 million per family on the average, not including compensation for jobs, businesses that ceased to exist and so on. The scope of compensation predicted by Cohen-Salman is debatable, but there is no doubt that if settlements such as Ariel, Alfei Menashe and other settlements near the Green Line are removed--the residents will be given sizeable compensation.
Another problem that hampers the purchase of an apartment in Judea and Samaria: Attorney Salman-Cohen explains that often this is a considerable procedural headache, which stems from taxes and high fees, because the apartments cannot be registered in the land registry office.
Conversely, the Judea and Samaria residents are entitled to many benefits in the areas of taxes and welfare. Data presented by the Finance Ministry indicate that in 2001, the tax benefits for residents of Judea and Samaria amounted to NIS 130 million. In the past decade, there was a large increase in the number of Israelis living beyond the Green Line, and now their number stands at 340,000, and so by all estimates the total amount of tax breaks has grown significantly.
Unlike the customary situation within the Green Line, the local councils in Judea and Samaria do not charge a betterment tax for approving a master plan or irregular use. The reason for this is that the planning and construction law does not apply to Judea and Samaria, as is customary in cities and communities inside the Green Line. [...]