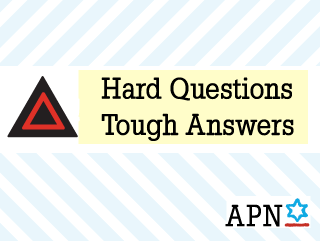 Alpher answers questions on Egypt's decision to build an underground wall at the Rafah border, Israel's next steps in the Gilad Shalit negotiations, and Labor MK Ophir Pines-Paz's resignation from politics.
Yossi Alpher is an independent security analyst, co-founder and co-editor of the Israeli-Palestinian internet dialogue bitterlemons.org and Middle East roundtable bitterlemons-international.org. He is the former director of the Jaffee Center for Strategic Studies at Tel Aviv University, and a former senior official with the Mossad, Israel's national intelligence agency. His views do not necessarily reflect those of Americans for Peace Now or Peace Now.
Go HERE for last week's Q&A on unrest in Iran, Prime Minister Netanyahu's efforts to co-opt the opposition Kadima party, and Israel's successful airport security measures.
Q. Why is Egypt suddenly so determined to build a wall that blocks Palestinian tunneling under the Gaza-Sinai border?
A. Undoubtedly, Egypt's forceful approach to building this barrier and silencing protests against it appears surprising in view of years of looking the other way while the Gaza-Sinai border smuggling operation went on. The explanation appears to involve a number of factors.
First, the 30 meter steel panels being lowered deep into the sand along the border reflect at least in part a concerted American effort, coordinated with Israel, to advise Egypt about ways to stop the tunneling and even pay for solutions. That effort precedes the Israel-Hamas war of a year ago, Operation Cast Lead, but was definitely advanced as an outcome of the war. In this sense, the Egyptian barrier may be seen as an integral part of an international effort generated by the war to interdict the smuggling of arms by Iran and Hezbollah to Hamas in Gaza.
Second, Egypt is apparently fed up with Hamas' waffling regarding the formation of a new Palestinian unity government--an effort spearheaded by Egypt--and perhaps also with Hamas' refusal to come to terms with Israel regarding a prisoner exchange. Seen from this standpoint, the new barrier constitutes pressure on Hamas to soften its positions vis-a-vis the PLO and Israel. Insofar as a prisoner exchange (see below) would inevitably generate a more flexible Israeli policy regarding the passage of goods through the Israel-Gaza crossings, the Egyptian barrier, which if successful will cease not only arms smuggling but unrestricted commerce in general between Gaza and Sinai, appears to be related to broader issues between Egypt and Israel on the one hand and Hamas on the other.
Third, Egypt is currently sponsoring a new plan for re-launching an Israeli-Palestinian peace process. Toward this end, its leaders have been meeting with the Israeli, Palestinian and American leadership. The balance between Cairo mediating renewal of Israeli-Palestinian talks and its clamping down on Hamas in Gaza is no accident: it enhances the inter-Arab legitimacy of both policy directions.
Fourth, Cairo is aware that certain Israeli strategic planners have at times voiced an aspiration to push Gaza into Egypt's hands, either by linking it to northern Sinai in an Israeli-Palestinian peace deal or by keeping the Israel-Gaza passages closed until Gaza "explodes" across the Sinai border. Egyptians believe the new barrier reduces the likelihood of that happening.
Finally, Egypt is increasingly concerned about the effect the Hamas "emirate" in Gaza has on the Egyptian Muslim Brotherhood and its popularity among the Egyptian public and even the broader Arab public. Hamas, after all, is an offshoot of the Jordanian and Egyptian brotherhoods, and the latter presents a constant electoral and populist threat to the regime in Cairo. The attempt during the past week by two separate international aid convoys, one led by the British MP George Galloway, to traverse Egyptian territory and enter Gaza raised Egyptian hackles, with imams in their mosques instructed by the government to preach against Hamas and its supporters.
In this regard, the death of an Egyptian soldier at the hands of a Hamas sharpshooter across the border played right into Egypt's hands in terms of whipping up patriotic fervor against Hamas. As the authoritative analyst and columnist Abdel Monem Said Aly wrote in al-Ahram last Friday,"Fundamentalist Islamists. . . have a major problem with the concept of the state and national boundaries. . . . Hamas operates on the assumption that it has the right to penetrate the Egyptian border whenever it wishes. . . regardless of the opinion of the Egyptian government or people."
All these developments should definitely concern Israel, the moderate Arab world and the international community, insofar as they may reflect on the stability of the Egyptian regime and its future in the looming post-Mubarak era. The barrier Cairo is erecting--or, more precisely, burying--along the Gaza-Sinai border has the symbolic significance of cutting Gaza off not only from Egyptian territory but from Egyptian affairs as well. For Israelis it should serve as a reminder that Egypt's primary strategy regarding Hamas in Gaza is to make sure it is Israel's problem, not Egypt's.
Q. Can you factor into this analysis PM Binyamin Netanyahu's announcement over the weekend that Israel would offer no further concessions to Hamas in order to free Gilad Shalit in a prisoner exchange?
A. Hamas could be forgiven if it treats Netanyahu's announcement as just another Israeli negotiating bluff--after all, there have been so many in recent years related to the Shalit negotiations. Still, it's possible Netanyahu means it this time. The seven-man ministerial strategic decision-making body that has been guiding the Israeli negotiating position has been deeply divided over the extent of concessions already offered, and may have reached the end of its tether. Conceivably, too, Netanyahu or German mediator Gerhard Konrad reads the latest Hamas response--rejecting Israel's position but interested in pursuing the issue (meaning, in effect, a conditioned or "soft" rejection)--as almost an invitation to get tough. The latest Tel Aviv University Peace Index opinion poll indicates that a majority of the Jewish public supports Netanyahu's hard response.
To the extent we know the details of these negotiations, the remaining areas of disagreement between Israel and Hamas center on Israel's insistence that around 100 hard-core Islamist terrorists of the 450 it is willing to release not be allowed to return to the West Bank, and on Israel's refusal to release senior Hamas and other leaders like Fateh's Marwan Barghouti--leaders whom Netanyahu calls "terrorist icons". Barghouti, it is fairly safe to assess, could at some point be released as a negotiating gesture to PLO Chairman and Palestinian Authority President Mahmoud Abbas or in order to soften the blow to Abbas' prestige if and when a deal for Shalit takes place.
Finally, Netanyahu's new get-tough attitude regarding Shalit may in some way be coordinated with Egypt's tough approach toward Hamas, described above. Netanyahu met with Egyptian President Husni Mubarak recently; construction of the Gaza-Sinai barrier may appear to the two leaders as a good opportunity to squeeze Hamas from both (geographical and political) sides.
At the broadest level neither Israel nor Egypt, nor, for that matter, the Quartet or the PLO, has thus far developed a concerted and well calculated strategy for dealing with the Hamas phenomenon. Mubarak's barrier could conceivably force some political concessions from Hamas, for example on the prisoner exchange issue, if the economic situation inside the Strip now becomes intolerable. But not necessarily. The Islamic emirate crammed between the two countries on the Mediterranean shore is not likely to go away any time soon.
Indeed, while exacerbating its humanitarian plight could at least temporarily moderate Hamas' regional stance, it could also have the opposite effect. Note, for example, that Hamas in its current hour of distress with Egypt is allowing other radical organizations like Islamic Jihad to renew rocket fire from Gaza against Israel, thereby threatening re-escalation of Gaza-Israel fighting for the first time in a year.
Q. Labor MK Ophir Pines-Paz, considered one of the bright prospects of the Israeli Zionist Left, resigned from politics. What does this tell us about the Labor Party, the present coalition and Israeli politics in general?
A. Pines is not the only prominent left-wing politician to leave the scene in recent years: Labor's Uzi Baram, Avrum Burg and Ami Ayalon spring to mind. Nor is this only a leftist phenomenon: Likudniks Benny Begin and Dan Meridor were both recently brought out of retirement by PM Netanyahu. Clearly, Israeli politics tends to grind down good people.
Broadly speaking, Pines' resignation reflects the dilemma of the shrinking Israeli political left. It also sends an immediate dual message. On the one hand, Pines could not support Labor leader and Defense Minister Ehud Barak and Labor's (junior) partnership in Netanyahu's coalition. But on the other, Pines has no faith in the scheme of three of his fellow dissident Labor MKs to bolt the party and either set up some sort of "New Labor" and/or ally themselves with Meretz or Kadima. The dissidents need to number five in order to carry out their plan; now they are only three.
Pines is only 49. He has already served as minister of internal affairs and minister of the environment, and he headed the prestigious Knesset Environment and Internal Affairs Committee. He will almost certainly seek to reinvent himself politically come next election. Meanwhile, his departure reinforces the impression that Labor has nowhere to go if it leaves this coalition and that assessments regarding Barak's ostensibly moderating influence over Netanyahu may be exaggerated. After all, Pines' retirement signals that Netanyahu can be fairly certain Barak will not abandon this government, no matter what direction it takes.
Incidentally, Pines' resignation was complemented on Monday by that of Pinchas Wallerstein, the veteran director of the Council of Settlers. Wallerstein's departure was a protest against the growing extremism of the Council, which two months ago refused to condemn a demonstration by religious soldiers against the IDF dismantling outposts and, more recently, refused to condemn the "price tag" that extremist settlers have placed on the removal of outposts and the settlement freeze in the form of attacks on Palestinian neighbors and even IDF officers. The settler mainstream has become too extreme even for one of its leaders.