A house isn't always just a house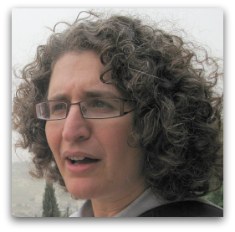 Hagit Ofran directs Peace Now's Settlement Watch project.
Join me. Make a tax-deductible contribution today.
When Hamas terrorists killed four Israelis in the West Bank in August, the condemnations came from across the Israeli political spectrum. That the dead--one of whom was pregnant--lived in a settlement made the act no less reprehensible, even to those of us who oppose the settlements.

That day an impassioned discussion about the murders broke out on APN's Facebook page. Amid the sometimes-overheated rhetoric of that Facebook discussion, one comment stands out in my mind--that "some radical Israeli will react by building a house." Although he didn't write it, I could hear the author saying: "by only building a house."

A house could be a symbol of civilization and wholeness. Perhaps even a concrete rebuke to a bloody crime or a constructive reply. That, the writer seemed to imply, is the Israeli way, the Jewish way. Our white to their black.

If only it was that simple. Really, it's our black to their black. Let me explain.

The world doesn't come in black and white. Certainly not in the West Bank, where houses that shelter families can also stop a peace process. That Jews build houses while Palestinians murder is nothing but sanctimonious rhetoric. I know this because I count these houses that Israel builds in the West Bank and the Palestinian parts of East Jerusalem. And because I observe, every day, the damage that these houses inflict on my country's efforts to live in peace with our neighbors.

My name is Hagit Ofran. I am the Settlement Watch Director for the Israeli Peace Now movement, the sister organization to APN. In my job, I monitor and analyze construction and planning of Israeli settlements. I travel daily throughout the West Bank and East Jerusalem to report on settlement related developments. I scrutinize aerial photos of settlements and official Israeli documents. And I get to know the people on the ground first-hand--the settlers, the soldiers guarding them, and their Palestinian neighbors. My job at Peace Now is to put settlement houses, like the one suggested by the writer on Facebook, into context:

* Was that house built on Palestinian-owned land? One-third of Jewish settlements in the West Bank lie on privately-owned Palestinian land. I recently met a settler from Ofra who is involved in an effort to locate the Palestinian owners of land that her settlement was built on in order to purchase the land from them. I find it touching, her wish to be fair. She honestly didn't know all these years (Ofra was established in 1975 almost entirely on land privately owned by Palestinians) that she was living on land owned by others. But the whole settlement enterprise has been conducted under a smokescreen that Peace Now's Settlement Watch project is today penetrating.

* Is that house causing friction between Israel and the United States? From the announcement of new construction in East Jerusalem last March on the day Vice President Joe Biden was visiting Jerusalem, to the end of the partial moratorium on settlement building in September and beyond, Israel's public relationship with the United States is undermined by settlements. What the world sees is an ongoing standoff between the two countries. Yet U.S. support is Israel's greatest strategic asset. With America stretched thin in Iraq and Afghanistan and a nuclear Iran looming, Israel cannot afford to strain its relations with the U.S.

* Is that house jeopardizing a two-state solution? Continued Israeli settlement eats up land where a Palestinian state could emerge. It complicates future border and security arrangements. It harms the credibility of moderate Palestinian leaders and undermines Palestinian popular support for the two-state solution. And it creates a new problem for Israel as a Jewish democracy. If we want to hold all the land, Israel must give the Palestinians full rights to remain a democracy. But the Palestinians are or will soon be the majority of those who live between the Mediterranean Sea and the Jordan River. So holding all the land means we will lose our independence as a Jewish people.

* Is that house being used as propaganda by Hamas? Hamas takes advantage of settlement construction to show that negotiations only perpetuate the occupation because Israel continues establishing facts on the ground under the guise of peace efforts.

That house, and thousands like it, is endangering the Zionist dream of Jews being a free people in our own land. Our entrenchment in the West Bank is entrapping us.

That is Peace Now's message to our fellow Israelis. We're patriots - that means when we put on the uniform of the Israel Defense Forces, we loyally guard that house. But when our military duty ends, we take up our civic duty to warn our fellow citizens of the danger we face by continuing the occupation.

At last we have a state, the homeland of the Jewish people: The state that so many generations of Jews dreamed about. But the implementation has been flawed. We have reached a situation in which the state has mortgaged itself, and its future, in order to hold on to the territories, for the sake of the settlements.

That cost has begun to make average Israelis wonder about the price they are paying for the settlers' self-indulgent ideology. As columnist Yair Lapid recently wrote in the daily Israeli newspaper Yedioth Ahronoth, referring to the settlers, "Four percent of the Israeli population cannot decide that they are the only ones who know what is right. We live here too."

So that house, so cavalierly promoted as the response to an act of terror, affects the entire Israeli public. But the truth is that the occupation is not merely about houses in settlements. It is also about violence and the flouting of Israeli law. Yes, it is a minority of the settlers who violently break the law, but what they do reflects on the entire Israeli public. They vandalize Palestinian property. They defy Israeli law by refusing to shutter Beit Yehonatan--an illegal apartment building in the middle of the Palestinian neighborhood of Silwan in East Jerusalem. They cut down olive trees and they desecrate West Bank mosques. They attack Palestinians, Israeli security forces, and peace activists.

Ya'akov Teitel of the Shvut Rachel settlement wasn't just building a house. He was indicted in November 2009 for murdering two Palestinians and laying several bombs, including one at the home of Peace Now veteran activist Prof. Zeev Sternhell.

But the fact remains that even the violence of the most militant settlers is dwarfed by the chronic injustice perpetuated by the Israeli government in the form of the occupation. The settlers are there because of the occupation. And Peace Now has been the most consistent Israeli protest movement doggedly opposing the occupation. We do it through demonstrations, petitions, ad campaigns, and by publicizing the findings of the Settlement Watch Project that I direct.

We see the work of Americans for Peace Now in the U.S. as an extension of Peace Now's work in Israel. Most Israelis realize the devastating impact of settlement construction. American friends of Israel need to come to the same realization.

APN is the leading voice for those Americans who support Israel and know that a negotiated peace will ensure Israel's security, prosperity and continued viability as a Jewish and democratic state. APN spreads that message through its website and its blog, in print and online articles and editorial pieces, and through social-networking media like Facebook and Twitter.

APN provides half of the funding for Peace Now in Israel. This supports innovations, such as the new exciting interactive online map of the settlements developed by APN, "Facts on the Ground." Introduced in September, "Facts on the Ground" is also available to users as an app for the iPhone and iPad. Now anyone in search of the facts behind the settlements can explore the West Bank with just a click of a mouse or a touch of a finger.

We want APN to develop more apps and educate more people through Facebook.

And we want to conduct more aerial tours of the West Bank. In September, Peace Now Secretary General Yariv Oppenheimer took a planeload of Knesset members, reporters and photographers on a flight over the West Bank to see that "if the settlements do not stop spreading, the land between the Jordan River and the sea will soon become indivisible for all practical purposes, and the two-state option will cease to exist," as The New York Times wrote of the eye-opening tour.

We believe that we must do our utmost to show every Israeli the big picture of the damage that settlements cause to our national security. We are mobilizing a new generation of young people. We continue to report on new construction, and we continue to use the Israeli courts to block illegal settlement expansion. We run educational workshops on Israel's campuses. We are out demonstrating in support of peace and we are the clear, loud voice of Israel's peace camp in the public sphere.

With your support, we can do more. Please make a donation right now.

If you believe that balance and realism are keys to a secure and flourishing Israel, then add your voice to ours. We've all heard the sermons and read the opinion pieces with the good news about Israel: that Israel is the only democracy in the Middle East; that Israel has more Nobel laureates per capita than any other country; and that Israel is at the forefront of developing green technology and medical technology.

But supporting Israel is more than simply cheering its successes. By supporting APN, you'll be part of a well-informed community of Israel supporters who demand high standards and peaceful negotiation from both sides of the conflict. Without sanctimony. By adding your voice to ours you'll help make it clear that a house isn't just a house. On behalf of myself and my colleagues at Peace Now in Israel, I want to thank APN for all that they do. They are a vital and essential force in helping us achieve a negotiated solution.

Thank you for your support. Your contribution is tax deductible.

Hagit Ofran
Director, Settlement Watch
Peace Now

Hagit Ofran is the director the Settlement Watch project of the Israeli Peace Now movement (Shalom Achshav).
Widely-recognized as Israel's foremost expert on West Bank and East Jerusalem settlements, Hagit is responsible for monitoring, scrutinizing and analyzing construction and planning of settlements in the West Bank.
Hagit's expertise is sought after by the media (both Israeli and foreign), by Israeli political figures, and by diplomats posted to Israel.
Hagit's passion for a better Israel extends beyond her work with Peace Now. She is a board member of Keshev, the Center for the Protection of Democracy in Israel, and of Beit HaGalgalim, an organization that provides social opportunities for disabled children. She is also a leader of Meretz, one of Israel's political parties.
The granddaughter of famed Israeli philosopher Yeshayahu Leibowitz, an authority on Jewish values, Hagit was raised in a religious household. Today--through her work with Peace Now and her volunteer activities--she fights for Israel to be a just, vibrant, and safe place.
She lives in Jerusalem.

Be heard. Contribute now. It's tax-deductible.