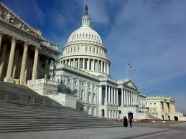 Washington, DC - Americans for Peace Now (APN) today welcomed clarifications offered last night on the House floor regarding the intent behind H. Res. 568 (to be passed by the House later today) and called on House members to sign a congressional letter supporting diplomacy with Iran.
APN President and CEO Debra DeLee commented: "We have repeatedly expressed serious reservations about H. Res. 568. Our concerns relate to several issues, most prominently the failure of the drafters of the resolution to include language making clear that it isn't an authorization of use of force, and their failure to define what the resolution means when it endorses 'nuclear weapons capability' as a red line in U.S. policy toward Iran. Last night on the House floor, in response to questions from other members of Congress, Rep. Berman (D-CA) - a lead sponsor of H. Res. 568 - clarified both of these points. He stated categorically that 'There is no authorization for the use of force...There is nothing in this resolution, and there is no intention in this resolution, to provide that authorization.' He also clearly defined 'nuclear weapons capability' as the point at which Iran has mastered all elements necessary to produce nuclear weapons -- fissile material production; design, weaponization and testing of a warhead and a delivery vehicle - and the point at which Iran has kicked out IAEA inspectors and has shut off the cameras. APN welcomes these important clarifications, which were not challenged by any other House member."
In addition, APN today urged members of Congress to sign a letter to President Obama initiated by Reps. David Price (D-NC) and David Dreier (R-CA) in support of ongoing Iran diplomacy.
DeLee commented: "The Price-Dreier letter is a constructive and extremely timely message of support for current diplomatic efforts to deal with Iran's nuclear program, given recent actions by Congress that might send a different message and given the upcoming meeting in Baghdad. Moreover, unlike H. Res. 568, the letter explicitly defines 'nuclear weapons capability' and in a manner consistent with the definition articulated yesterday by Rep. Berman. We applaud Representatives Price and Dreier for looking past the partisan divide to support a diplomatic effort whose outcome will be of critical importance to the national security of both the U.S. and Israel. We are urging all House members to add their names to it."
For a copy of APN's letter to House members, click
here
For an analysis of Res. 568 and APN's concerns regarding the motion, click
here
To read Rep. Berman's comments on the House floor yesterday, click
here
APN, a Jewish, Zionist organization dedicated to enhancing Israel's security through peace, has for years been urging Washington to address Iran's nuclear quest rationally and responsibly.