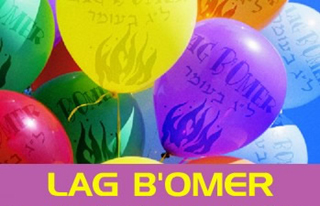 This year Jews will be celebrating Lag b'Omer starting this Wednesday night. Lag b'Omer is the Hebrew for "33rd day of the Omer."
The Omer is a period of time when the Jewish people count the days starting on the second night of Passover, for seven complete weeks, until the night ending with the holiday of Shavuot on the 50th day.
The 49 days of the Omer invoke the journey between emancipation from physical slavery in Egypt, to the time when we were mentally liberated enough to be able to accept spiritual emancipation as well, with the giving of the Torah at Mount Sinai on Shavuot.
The period of the Omer is treated as a time when Jews refrain from a variety of joyous practices; however, the 33rd day is a special day on which weddings and other celebrations are permitted.
One explanation of why we celebrate on Lag b'Omer, offered by the Talmud, is that a plague was ravaging the students of Rabbi Akiva because they were disrespectful of one another. Lag b'Omer was said to be the day on which the plague ceased.
On this Lag b'Omer, let us commit to hearing the stories of others, and working to make a better world possible. Let's respect one another. Let everyday be a "Lag b'Omer".

Rabbi Alana Suskin is the APN Director of Strategic Communications