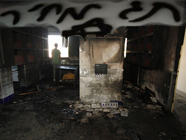 In the last two days, two more price tag attacks were made against a monastery, a Jewish-Arab bilingual school and the offices of Peace Now in Jerusalem.
On February 7, a Jewish-Arab bilingual school and a Christian monastery in Jerusalem were defaced with graffiti in a suspected "price tag" attacks carried out by Jewish extremists. "Death to Arabs" and "Kahane was right" was daubed in Hebrew on a wall outside the bilingual school and anti-Christian graffiti defaced two cars and a stone fence outside the monastery.
On February 8, extremists vandalized Peace Now's Jerusalem offices. The extremists sprayed "No leftists, no terror attacks" on the fence outside of the office, located in the German Colony neighborhood.
Americans for Peace Now maintains a timeline of the escalating price tag attacks since January of 2011. Click here to see the timeline.