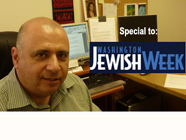 Israeli soldiers last week again had to chase lawless settlers on the hills of the West Bank.
This time, it was settlers from Yitzhar and Bracha, near Nablus, who vandalized Palestinian property, blocked roads, torched fields, sabotaged Israel Defense Forces vehicles, punched, kicked Israeli police officers, cursed and harassed them and resisted arrest...
-- all in reaction to the demolition of two illegally built structures at an outpost near Yitzhar.

The settlers were also reacting to the arrest of Rabbi Yitzhak Shapira of Yitzhar, who recently published a book that offers a halachic, Jewish legal, analysis of the circumstances under which Jews may kill non-Jews, including women and children. More than seven months after the scandalous book was published and exposed in Israeli media reports, Shapira was arrested for incitement.

Shapira's book, co-authored with another settler rabbi, Yossi Elitzur, states that "non-Jews" (the book does not specify Arabs or Palestinians) may be killed even when they are innocent, if their mere presence endangers Jewish lives.

"In any situation in which a non-Jew's presence endangers Jewish lives, the non-Jew may be killed even if he is a righteous Gentile and not at all guilty for the situation that has been created," the authors wrote. "When a non-Jew assists a murderer of Jews and causes the death of one, he may be killed, and in any case where a non-Jew's presence causes danger to Jews, the non-Jew may be killed."
The hotheads of Yitzhar and their provocative rabbi are not a handful of isolated, marginal fanatics. They are the most vociferous part of a broad movement among the West Bank settlers, a movement that is challenging the rule of Israel's law, the legitimacy of its government, and the democratic nature of Israel's society.
Shapira's book, The King's Torah, was endorsed by some important rabbis of Israel's national-religious movement, such as Yitzhak Ginsburg, Dov Lior and Yaakov Yosef. And the Yitzhar settlers' attacks against Israeli law enforcement agents and against Palestinians are not an isolated emotional outburst.
These violent attacks are a part of the extreme settlers' ongoing systematic campaign to deter Israeli authorities from evacuating or freezing illegal outposts by creating fear of the high cost of settlers' retaliation. They call it "Price Tag."
Specific "Price Tag" tactics have included attacking Palestinians and their mosques, homes, and crops, throwing objects at IDF personnel and Israeli police, slashing tires of military and police vehicles and even unleashing attack dogs at IDF soldiers.
Unfortunately, Israel's government too often turns a blind eye to the actions of these criminals. A Washington Post reporter last week described how Foreign Minister Avigdor Lieberman, on a solidarity tour with the settlers in the Nablus area, had passed by burning olive trees of Palestinians, torched by settlers hours earlier.
Americans who care about Israel -- regardless of their political views -- must condemn this dark wave of fanaticism. They must act to curtail it and help protect Israel from those who seem resolute in challenging the authority of its democratically elected, sovereign government. Americans who cherish the Jewish state must assert their objection to atrocities that are committed in the name of Judaism. Americans who want to see a strong, moral and democratic Israel have a stake in helping defend the Jewish state not only from external forces who wish to destroy it but also from terrorists, vigilantes, and adversaries from within.
Americans who care about Israel must realize that this movement is not confined to the West Bank. Recently, hooligans spayed "Price Tag" graffiti on the walls of a mosque at the Israeli Arab village of Ibtin, near Haifa. Jewish terrorist Jack Teitel, according to his long charge sheet, acted against people he wanted to terrorize not only in the West Bank, but inside Israel as well.
The same goes for Haim Perlman, the settler recently arrested on suspicion of murdering four Palestinians and attacking others in the past 12 years. The extreme settlers' fanaticism, racism, intolerance and lawlessness do not stop at the Green Line.
Being pro-Israel means standing up for Israel as a democratic, Jewish state. It means standing up for the legitimacy of the Israeli government's sovereignty and for its rule of law.
Being pro-Israel means taking a strong stance against violence that threatens the integrity and well-being of the state, even when perpetrated by Israeli Jews.

http://www.washingtonjewishweek.com/main.asp?SectionID=31&SubSectionID=49&ArticleID=13208&TM=56376.4

Ori Nir is the spokesperson for Americans for Peace Now.